13 Days, Pagodas & Pearls of the Orient
on Crystal Symphony
13 Days, Pagodas & Pearls of the Orient
Overnights in Manila, Hanoi and Hong Kong reveal the allure of lands where ancient treasures meet modern ambition. Venture to Hue and the Imperial Palace from Da Nang, and delight in Hoi An's UNESCO-listed Old Town charms.

Since the beginning, Crystal has been the standard-bearer for excellence in luxury travel, remaining the undisputed choice among the savviest world travelers. Today, we are redefining it altogether, expanding the possibilities for our guests with choices, experiences and luxuries unmatched in the industry. By Ocean, River, Yacht, Expedition and Air, each Crystal Experience is designed to showcase the world and its wonders in the most remarkable ways. Join us as new adventures unfold...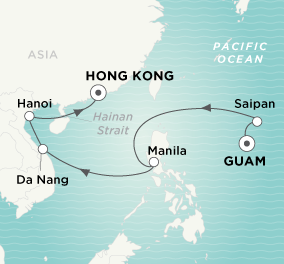 | Day | Destination | Arrive | Depart |
| --- | --- | --- | --- |
| Sun | Guam, GU | | 06:00 PM |
| Mon | Saipan, MP | 07:00 AM | 05:00 PM |
| Tue | Cruising The Pacific Ocean | | |
| Wed | Cruising The Pacific Ocean | | |
| Thu | Cruising The Pacific Ocean | | |
| Fri | Manila, PH | 07:00 AM | |
| Sat | Manila, PH | | 02:00 PM |
| Sun | Cruising The South China Sea | | |
| Mon | Da Nang, VN | 08:00 AM | 08:00 PM |
| Tue | Hanoi/Hongai, VN | 01:00 PM | |
| Wed | Hanoi/Hongai, VN | | 06:00 PM |
| Thu | Cruising the Hainan Strait | | |
| Fri | Hong Kong, HK | 08:00 AM | |
| Sat | Hong Kong, HK | | |